BIM Modeling
The shift from 2D design representation to 3D Building Information Modeling (BIM) is a paradigm-shift in how buildings are designed, built and operated. BIM offers an entirely different proposition from the conventional 2D workflow, one that allows us to move beyond 2D representation of 3D buildings to a simulated 3D parametric process.
Building Types :
Commercial, Retail, Educational, Institutional, Healthcare, Hospitality, Multi-family residential, mixed use and Infrastructure.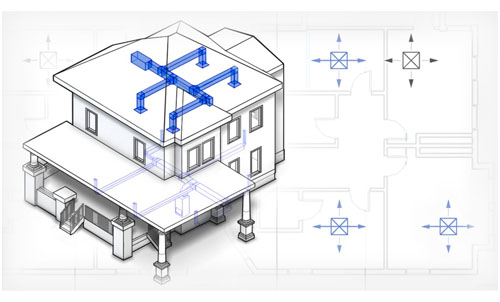 Software Platforms :
Revit, Fabrication CAD MEP, Navisworks
Services : Creation of Building Models
Building models are created based on Architect's and Engineer's design drawings and include all relevant systems, details and materials. Our clients use the building models for downstream uses such as design validation, overall coordination, detail design visualization, quantity extraction and scheduling.

We recognize that design workflows differ between clients and from project to project. Our experience on implementing BIM projects for a wide variety of clients enables us to tailor the modeling process to your workflow, including the reality that all design information will not usually be available at the start. We follow the AIA Model Progression Specification (from LOD100 for conceptual design to LOD400 for fabrication drawings) or alternatively, can suggest a customized progression schedule that better meets the needs of a specific project. We also create as-built models (LOD500) from a variety of data sources.

All our building models are complaint with industry standards in terms of consistency and reliability in use, as also efficiency in terms of a low memory footprint.
Creation of Building Product Models
3D data rich digital models are created based on Building Product Manufacturer's product catalogs, brochures and other information which can be directly used by Architects and Engineers in their design models. Models prepared are based on latest BIM technologies and conform to industry standards so that they seamlessly integrate in the design models of almost all target users.